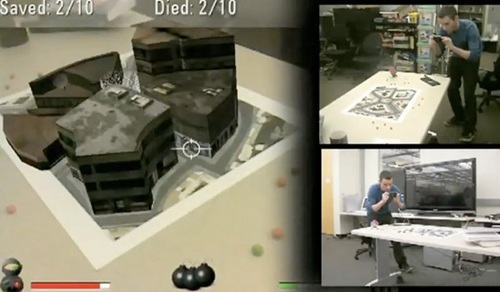 Un gruppo di ricercatori della Georgia Tech e del Savannah College of Art and Design stanno sperimentando con piattaforme mobili e Reatà Aumentata (riprese reali con sovrapposizione di elementi digitali).
Come hardware usano uno smartphone basato su Tegra, la potente piattaforma mobile di nVidia, e il software... beh, il software è proprio speciale.
Si tratta di ARhrrrr!, uno shoot'em up tridimensionale: spostando il cellulare si "vola" sopra una città infestata da -poteva essere diversamente?- numerosi zombie. Si spara inquadrandoli in un mirino nello schermo.
La Realtà Aumentata entra in gioco nella generazione della città: essenzialmente è una mappa bidimensionale stampata su un foglio e appoggiata su di un tavolo (reale). Lo smartphone riprende la mappa attraverso la telecamera, riconosce strade e elementi distintivi dall'immagine, e ci "costruisce" sopra palazzi e zombie con la giusta prospettiva, a seconda del movimento del telefono.
Un filmato vale almeno 24 immagini al secondo, ognuna delle quali vale almeno 1000 parole, quindi ecco un demo:
Fonte e foto di Engadget.