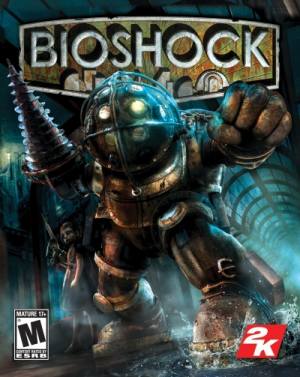 Pochi giochi hanno ottenuto l'accoglienza di pubblico e critica riservata a BioShock.
Pochi giochi hanno saputo annichilire il divario tra intrattenimento ed arte, riuscendo a porsi sullo stesso livello di letteratura e cinematografia.
Pochi giochi hanno saputo integrare trama avvincente, narrativa di prima qualità ed estetica sopraffina come ha fatto BioShock.
Nel 1946 l'industriale Andrew Ryan, stanco dell'oppressione del mondo verso gli uomini più dotati del pianeta, costruisce una città sottomarina nell'atlantico, chiamata Rapture (estasi).
Un uomo non ha diritto al frutto del sudore della propria fronte?
No, dice l'uomo a Washington. Va dato ai poveri.
No, dice l'uomo in Vaticano. Appartiene a Dio.
No, dice l'uomo a Mosca. Va distribuito tra tutti.
Ryan rifiutò queste risposte, e le sostituì con la sua: Rapture, un luogo dove i grandi non debbano tenere il passo degli umili, dove gli scienziati non debbano subire le angherie della moralità, dove gli artisti non debbano temere i censori.
Un luogo dove regni il puro individualismo, senza dei o re, solo uomini.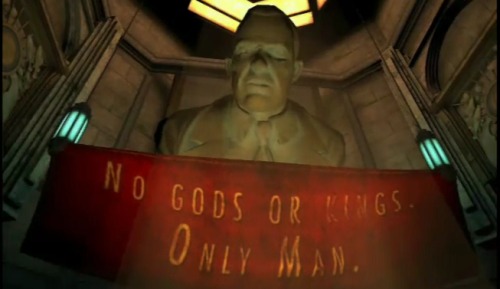 Quando Jack arriva a Rapture, del sogno di Ryan è rimasto ben poco.
L'ADAM è una sorta di cellule staminali secrete da misteriose lumache di mare, in grado di rendere gli abitanti di Rapture superuomini in senso letterale, e questa scoperta si rivela la fine dell'utopia: peggio degli dei sono gli uomini che giocano con poteri divini.

Ciò che Jack trova in mezzo all'Atlantico sono i ruderi Art Deco di Rapture abitati dai fantasmi di quella civiltà perfetta durata troppo poco, infestati da bambine (Little Sisters) che cercano cadaveri per estrarre il prezioso ADAM, protette da mostri in armatura da palombaro chiamati Big Daddy.
Travestito da semplice First Person Shooter, BioShock è un gioco estremamente complesso nella trama narrativa, che affonda le sue radici nella filosofia dell' oggettivismo di Ayn Rand e che, una volta tanto, si presenta inquietante più per i temi che tratta che per le immagini che propone.
Pochi giochi hanno ricevuto un'accoglienza pari a quella riservata a BioShock, successore spirituale di un altro grande capolavoro del passato: System Shock 2.
Personalmente credo che sia possibile considerare questo gioco un'opera d'arte, ma per non farmi influenzare troppo dal mio personale giudizio ho invitato l'amico Francesco, che di certo non ama i FPS, a giocare il demo e a commentarlo insieme a me.
In Tecnica Arcana n°20 - Speciale BioShock vi accompagneremo in Rapture e confronteremo questo gioco per Windows e Xbox360 con le uscite di questi giorni per le altre console: Metroid Prime 3 Corruption per Nintendo Wii e Lair e Heavenly Sword per Sony Playstation 3.
Ascolta l'episodio in streaming:
Abbonati al podcast: [ con iTunes | con RSS ]
Le note sull'episodio e tutti i link sono disponibili qui.


"And with the sweat of your brow, Rapture can become your city as well"