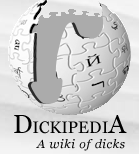 Avete presente uno di quei siti che appena arrivati in home page vi rendete immediatamente conto della sua inutilità, e contemporaneamente sapete che non sarà facile sfuggirne?
Ecco...
George Walton Lucas, Jr. (born May 14, 1944) is an Academy Award-nominated—the operative word being "nominated"—producer, director, screenwriter, and dick.
He is both the creator and destroyer of the Star Wars saga, though it remains to be seen just how much he'll ruin Indiana Jones before he dies. Nonetheless, with a net worth approaching 4 billion Galactic Standard Credits, Lucas is one of the American film industry's most financially successful independent dicks.

Dickipedia, estratto dalla pagina su George Lucas

Steve Jobs is a new school dick. In direct refutation of the traditional dick that still dominates both the business and academic worlds, Jobs masks his dickitude with a hip, user-friendly interface.

Along with Apple co-founder Steve Wozniak, Jobs helped popularize the personal computer in the late 1970s. He was also responsible for developing the mouse, an invention that not only revolutionized home computing, but also forced millions of men to switch over to left-handed masturbation.

Dickipedia, estratto dalla pagina su Steve Jobs